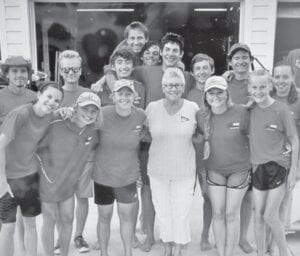 By Brian Freiberger, Leelanau Enterprise, [email protected]. April 8, 2021
Donna Chapman (middle) poses with staff and volunteers at Northport Youth Sailing School during the summer of 2018. After not opening the school in 2020 due to COVID, Chapman looks forward to reopening this summer. Courtesy Photo
Sometimes the wind sets your direction in life and sails you to the place where you belong.
That's what happened to Donna Chapman, a resident of Northport since 2003.
Chapman, director of Northport Youth Sailing School (NYSS), was born in Chicago, Illinois and attended Western Michigan University. She taught kindergarten for 30 years at Gobles Elementary School in Gobles, Michigan.
"For me teaching was all about providing life experiences for kids, and watching them grow into strong and independent young people," said Chapman on the importance of teaching.
Chapman and her husband Jim lived in Kalamazoo and have a passion for the water.
"While living in Kalamazoo, we kept our boat in South Haven and every summer we would load the kids on the boat and head North. One summer we came up the coast and into Northport and it was absolutely the most beautiful place we had ever been… we stayed for a week and put our name on the waiting list at the harbor. Eight years later we had a slip in the harbor and from that point forward we would drive up and spend the weekends on the boat," Chapman said.
After retiring 18 years ago in 2003, Chapman and her husband Jim, found property in Northport, built a house and started the Northport Youth Sailing School shortly after moving to the area.
"There are so many reasons that I love living in Northport. The people, the water, the landscape, the quaintness, all which provide a tremendous place to live," said Chapman about living in Northport.
After not having classes in 2020 due to the pandemic, the sailing school is preparing for its 12th year of sailing class in 2021.
"Last year was crazy due to COVID, but we are back with the same great program for all sailors and with the safety protocols necessary to keep you safe and healthy while at the same time having fun," she said. "We are still working on all of the details but we hope to open registration May 1," said Chapman
"One of the most rewarding things to see when classes are in session is to stand back and watch these kids rigging their own boats and heading out to the water. That to me is really what makes it all worth it," she said.
The school's boathouse located at 105 Bay St. was built in 2015. Before the boathouse, the school borrowed equipment from the Traverse Area Community Sailing program and various other donors that helped launch the school over 13 years ago.
In 2015, NYSS was provided with the opportunity to build a new boathouse, thanks to financial stewardship, generous donations, local grants and a Traverse City Rotary Grant. The new boathouse now houses 14 fiberglass prams which were gifted to NYSS by a summer resident. Along with the 14 Optis, six wooden Optis, six Laser Picos, six Lasers and a fleet of safety boats.
"Sailing is a life skill that can be with you forever. These are experiences that you can take with you for a long time…I just feel kids need to have the opportunity to experience being on the water while problem solving and having fun in a safe way," said Chapman.
The school starts sailing on July 5 and runs for five weeks with classes in the morning and the afternoon. NYSS offers five different skill levels from beginner to advanced, along with a Little Puff program which is popular for children under 10 years old. All classes are taught by U.S.Sailing trained instructors and staff.
Local scholarships, provided by the Leelanau Township Foundation and Northport Yacht Club, are available to all Leelanau Township residents.
"Kids come back year after year… so they must be having fun," said Chapman.